Podcasting & Radio
Joe has been podcasting since 2018 when he created the PCC, Sustain Me! Higher Education Sustainability & Environmental Justice Podcast.
Since then Joe has created and hosted other podcasts including the ESD, Sustain Me! Podcast and his dissertation project Engaged With Ecology Podcast madewhile at Schumacher College. Also while in Devon, England Joe ran a radio show called the 'I don't know Radio Show' on SoundArt Radio. Currently, he is the host of the SS Small is Beautiful podcast.
Joe has now created over 40 episodes through these various projects and continues to produce more regularly.
Scroll down a wee bit and you'll be able to directly explore and listen to all these programs as well as a recent show Joe was on as well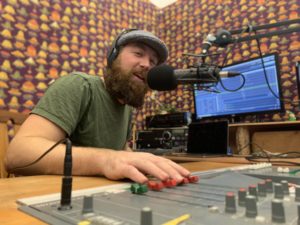 Presenting, podcasting…
Leveraging the momentum from the podcast and wishing to collaborate and share the journey with others, Joe embarked on a local, regional, and international conference tour which proved to be immensely valuable to both shaping his learning and understanding of these complex issues while helping him to better see how interconnected the worlds of sustainability and social justice really are. These experiences provided some of his foundational exercises in national and global consulting and facilitation on these topics as well.
Below you can access selected episodes from that original podcast which reflect Joe's explorations into how sustainability and social/racial justice work requires both being addressed simultaneously. This exploration for Joe is still an ongoing journey, these episodes help to hopefully provide others with accessible outlets for how this work is being done, and importantly, through shared conversations primarily with women, indigenous folks, and people of color.
Joe's work exploring these issues and creating, editing, and producing the PCC, Sustain Me! project were recognized at the11th Global RCE Conference: Education for Sustainable Developmentwhere Joe received a Flagship Project Award from UN University and the Regional Centres of Expertise.
Episode #11 ~ featuring Dr. Heather Hackman from Hackman Consulting Group
This one is pretty special to me, if you give it a listen, it will become clear just how influential Heather Hackman has been for my own personal trajectory. I have been immensely influenced by Heather's work and this was a true honor getting to do this interview.
From the episode…
'Our paths crossed a second time in June when I attended the 2018 NCORE conference in New Orleans. NCORE is the National Conference on Race and Ethnicity in American Higher Education. There, while attending Heathers session I saw a similar display of awesome wisdom being presented this time from a framework of tying social justice work into environmental sustainability and justice work and I was in awe…'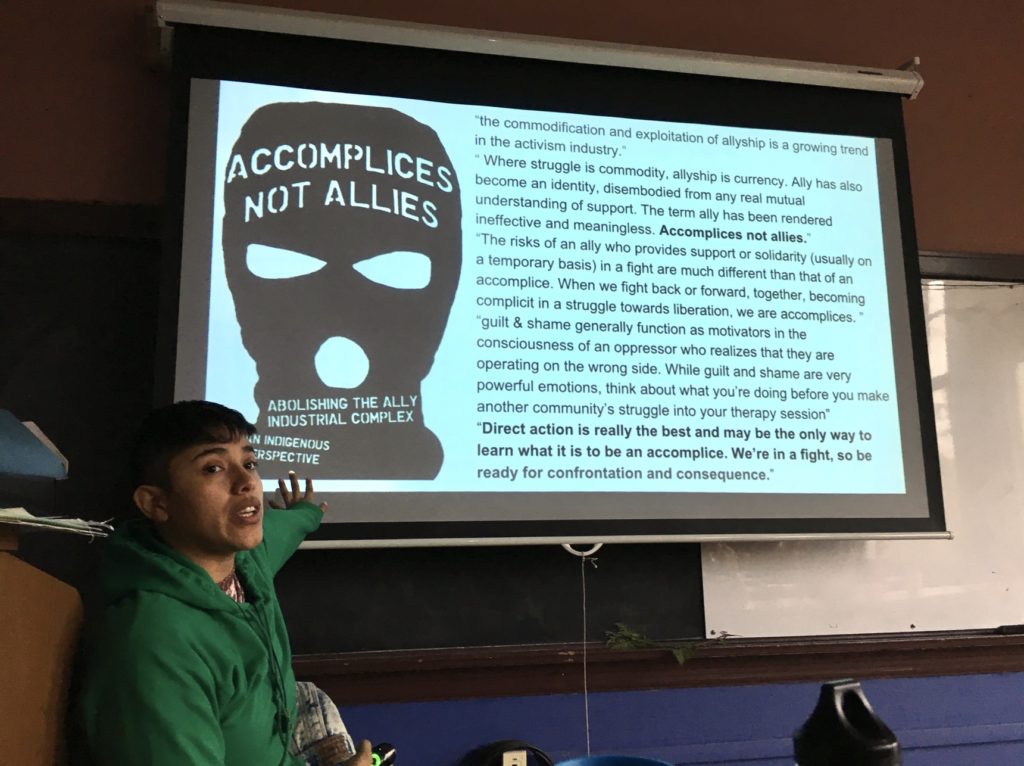 Episode #13 ~ On Being an Accomplice and Not Just an Ally w/ La Loba Loca & 10th Annual Portland Plant Medicine Gathering
La Loba Loca is amazing by the way. La Loba Loca is a Queer, Chocolla, Andina, South American migrant, artist, researcher, writer, handpoke tattooist, full spectrum companion/doula, aspiring midwife student, seed-saver, gardener and yerbetera. Loba is currently based in Los Angeles, CA but constantly travels across Turtle Island and Abya Yala to facilitate shares and circles on herbalism, plant relations, social justice, healing justice and autonomous health. You can go to lalobaloca.com to learn more and here is a link to Loba's patreon page. It genuinely was an honor to share in that half day intensive with Loba and everyone involved and to be able to sit and chat for a bit to share on the podcast as well.
Episode #19 ~ Food, Justice & Finding the Intersections w/ Venus Barnes
I had such a great conversation with Venus Barnes, a member of the PCC community as the Learning Garden Coordinator at the Sylvania Campus and she is also a former student here as well.
I've had the pleasure of getting to know Venus and consider her one of my most instructive mentors. She has been the one who has reminded me to continue to fall forward as I carry on in my anti-racist work (as white guy). I am so grateful to Venus and her work.
Venus started a Food Justice Cohort that I was really excited to share about and she also did an excellent job of addressing and looking at many of the intersections of the social just and sustainability movement.
ESD, Sustain Me! Podcast
This was a short lived podcast that began during the pandemic and ran for 5 episodes.
This podcast, hosted by Joe Culhane, was based out of Portland, Oregon through the Greater Portland Sustainability Education Network (GPSEN). It focuses on #ESDfor2030 which is: Education for Sustainable Development 2030, a decade long effort supported by UNESCO and in alignment with the 17 global Sustainable Development Goals recognized by the UN.
ss small is beautiful podcast
This is the freshest podcast from Joe. It's just getting started really.
The project is called: S.S. Small is Beautiful Come set sail with us on the S.S. Small is Beautiful as we navigate our way through the seven seas of our individual, shared, and collective journeys. Our point of connection is Schumacher College and so, this ship, and vessel for our journey shall be the S.S. Small is Beautiful, hop on and cruise with us for awhile.This journey will be a podcast sharing stories and conversations with past, present, and future students, lecturers, facilitators, and as many of the do'ers n' dreamers and movers and shakers that have been a part of the Schumacher College and greater Dartington Experiment.
This is all about collaboration and will partly be a research project, while also becoming a living document that will help provide an archival resource for those of us who've come through Schumacher and Dartington. Or perhaps for those just learning about it and would like to hear stories from people's experiences there.
This place has been so magical and impactful for those who love and are dedicated to transforming our human trajectory towards a more ecologically integrated, equitable, regenerative, and socially just reality. Hearing more about how us humans are becoming more appreciative of the relationships we're always navigating with, those more-than-human communities and ecologies we're intimately connected to.
And really, this is for folks in general to explore and find ways to connect with great projects, organizations, and movements around the world.
The i don't know radio show
This Radio Show originally ran in 2021 on SoundArt Radio based in the Totnes/Dartington area of Devon, England. Here you'll find 9 episodes of Joe exploring a vast array of concepts that swirl around this realization that we're navigating our way through a great unknown. Topics swirled between life, death, ecology, environmental philosophy, herbalism, sustainability, climate/racial/social justice, and even dabbled in esoteric explorations as well.
It is worth noting that these 9 episodes coincided with the conclusion of my MA in Engaged Ecology. These originally aired live sessions informed my dissertation project (which is below) in significant ways. I had a few really wonderful guests and even had an extra special guest when I invited the River Dart in for a bit of radio time.
Engaged with Ecology podcast
Engaged With Ecology: A podcast, process and journey of inquiry into Phenomenology and Herbalism and their potential as accessible pathways to better relationships with the more than human world. Hosted by Joe Culhane, this is his major project for the culmination of the MA in Engaged Ecology at Schumacher College (via the University of Plymouth) in Devon, England. It will focus on phenomenology, herbalism (specifically intuitive and sensory), our relationships with the more-than-human world, and whether philosophy like phenomenology should be more accessible.
Also whether it is or could be a good tool/resource for building these better relationships with the world of nature we are intrinsically connected to and a part of, why this is so important to me, and what I believe is at stake.This is a scholarly personal narrative with elements of scholarly activism and (post) qualitative research methodology.
The key questions explored are: How does (or can) the practice or process of phenomenology facilitate and deepen a relationship with the more-than-human world for those in Western Civilization?
A secondary question: Is intuitive and sensory herbalism a form of phenomenology? And if so, are these perhaps more accessible pathways for folks to connect with the more-than-human world and develop better relationships?
A third question that has come out of these inquiries, and will be explored throughout is ethical: what role do the more-than-humans have in these relationships and what responsibility do I have in acknowledging their contributions?
And finally a fourth question that will be woven through this project is: Could this inquiry potentially help shift our settler-colonial and capitalist – perpetual growth on a finite planet – mindset and world view, which drives the Western Civilization story that is at the heart of our current dominant global narrative? And if so, what would this look like to more collectively live and breathe as relational beings?
PCC, Sustain Me! Podcast
So, what is PCC, Sustain Me! all about? I'm glad you asked. Here's the scoop:
From one of the leading sustainability institutions in higher education, Portland Community College, comes a podcast for students, staff and faculty of colleges as well everyday people. It will take an earnest but lighthearted look at ways to focus on improving sustainability and environmental justice initiatives across the globe. The show is hosted by Joe Culhane, who was a PCC student and the district Sustainability Communications Coordinator. The program focused primarily on PCC and it's sustainability and environmental justice initiatives and achievements though also include a series of interviews and stories woven in from other higher education institutions/politicians/non-profits, sharing the highlights of their recent achievements, current initiatives, successes and failures, and taking a look back on what they'd do differently.
The objective of this podcast was to help provide both an entertaining and accessible outlet for learning about how colleges across the country and globe are making a difference in the world through environmental sustainability, social justice, and equity, diversity, and inclusion work. Ultimately the idea was to create an archive of initiatives, best practices, and actions with both concrete evidence of successes and failures along with anecdotal stories that connect more to that deep integral part of us all that loves a good story. Another aspect of this podcast was working towards showing how it relates to, and raise awareness around, the United Nations 17 Sustainable Development Goals.
It's also a platform and outlet for the voices in our communities whose voices have not been traditionally heard. This is the element of social justice that is most needed these days and this program offers an opportunity to share stories and the voices of marginalized and oppressed people and groups who are the ones who are likely going to be providing the solutions and leadership needed as we move forward.