Eco Social Justice
It has become evident that there is a need to bring together the sustainability movement with the social/racial/climate justice movement. While at PCC, Joe worked to help shift this in his various roles as a student, student leader, the Sustainability Communications Coordinator, Illumination Project member, student newspaper journalist, and in various different ways beyond this while attending and working at the college.
Eco-Social Justice Grant
Here you can see a video that Joe helped produce while at the college, that illuminated some of the efforts he was a part of with other students, teachers, and staff that helped to create the Eco Social Justice Grant.
This video provides a deeper visual understanding of why we helped to shift away from the grant program being called The Green Initiative Fund and instead transformed it to embrace the dynamics of social justice and its place in the sustainability and environmental justice movement.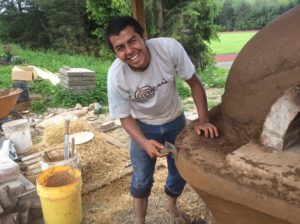 About PCC's Eco social justice grant:
(from the website, copy Joe wrote/edited for the video and page)
Issues of environmental degradation, inequality, and economic disparity impact us all. Here at PCC we value our students, staff, and faculty and their commitment to sustainability as well as their advocacy and efforts towards creating more equitable, diverse and inclusive spaces across the district.
We are supporting and fostering a culture of collaborative, innovative problem solving using environmental sustainability and social justice initiatives to accomplish these goals. From our learning gardens, water bottle fill stations, our great bike programs and farm stand, to our annual #EcoSocialJusticeEvent, we have been working together to address our community's most pressing ecological and social challenges with fresh ideas. We also feel that it is important to both celebrate and give thanks and acknowledgement to the amount of time, money, and effort that students have put towards making Portland Community College a nationally and globally recognized higher education institution and leader in the sustainability movement.
So, how did we get her and also find a way to support these ongoing efforts?
In 2008 the Associated Students of Portland Community College (ASPCC) District Student Council approved a ten cent addition to the student activity fee, creating The Green Initiative Fund. At the beginning of 2018, the ASPCC District Student Council unanimously agreed to change the name of this fund to the Eco Social Justice Grant (ESJG), this name change better reflects the broader scope of what these grants have been and will be dedicated to. This fund exists so that students, staff, and faculty can participate in our culture of innovation and contribute meaningful advances to sustainable practices. At PCC, our goal is to achieve sustainable excellence in all operations, to live our commitment to social justice, and to meet our targeted greenhouse gas reductions as detailed in the Climate Action Plan. If you have an idea for a project that moves PCC towards these outcomes, we want to hear from you!
click here to go directly to pcc's eco social justice grant page
collaboration is key to equity
The time Joe spent as part of PCC was a gift in so many ways, the experiences and memories created in partnership and collaboration with a diverse set of people helped to shape what became the Eco Social Justice Grant and Eco Social Justice Events. The lessons learned continue to inform Joe's actions and decisions, as well as his leadership style as it involves a great deal of listening, and importantly, stepping back and allowing others to lead all along the process.